October 08, 2010 01:17 AM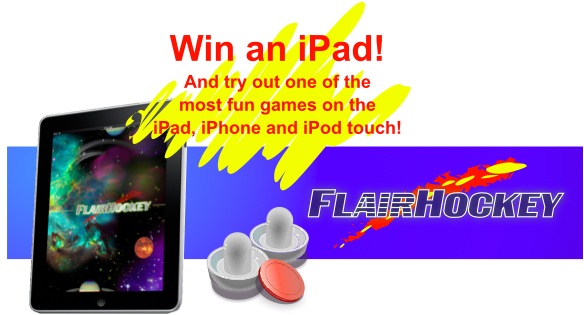 We have a brand new iPad sitting here just waiting for you to win. It's fun! It's easy! And the odds of winning are probably pretty good!
If you've tried FlairHockey, you've seen the different air hockey tables you can choose from. It comes with three from the start, one bonus table available as a free download, and three more for purchase. There will be more in the future, including: THE WINNING ENTRY OF THIS CONTEST!
That's right. Just send us an idea for a cool, fun FlairHockey table theme. Tell us the essential elements of your idea – what the table looks like, what sounds and visual effects it has, and whatever else we may need to know. If you have a good name for your table, include that.

We will pick the idea we like best.

The winning entry will be implemented by e-LIPS, and will be available either as a free download or bundled with future versions of FlairHockey.
To download FlairHockey Free for the iPhone and iPod touch,
click here
.
To buy FlairHockey for the iPad,
click here
.
Details:
You may enter the contest using Twitter or by leaving a comment below (see the instructions below under "How to enter").
Entries must be 300 characters or less (140 characters on Twitter).
Entries must be received by midnight, October 31, 2010.
Entrees must be appropriate for all ages.
Note that entries will be public. If the winning idea is similar to others, we will choose the first similar one entered.
No purchase necessary.
Open to U.S. residents only. The iPad prize will be shipped to a U.S. address.
Grand prize is a 16GB Wi-fi iPad
, and bragging rights after we implement and release the winning table.
The winning entry will be announced here on this blog and on the Twitter feed shortly after November 1, 2010. Allow two months for the winning table to be implemented, tested, and approved by Apple.
If we choose your idea, we may contact you to see if you have further thoughts about your idea.
How to enter:
1.
Twitter: Either reply to a FlairHockey tweet, start your tweet with @flairhockey, or include #flairhockey in your tweet.Here is an example:

2.
Leave your idea as a comment below.
IMPORTANT: If your entry is chosen, we must have a way to contact you! So when you leave a comment, either log in to one of the services such as Twitter or My Yahoo!, or add your email address to your profile using the following steps (your email will not be displayed with your comment):
1) Type your name and your FlairHockey table idea, then click the Post button
2) When the comments are updated with your post, click on your name in the post.
3) Click "View Details"
4) Click "Edit Profile"
5) Type your email address in the Email field.
6) Click "Save Changes"
That's it! Good luck, and be creative. You may win an iPad and have your FlairHockey table implemented by us for the world to enjoy!